SHINIGAMI APPLICATION
Name:
Sora
Nickname(s):
The Light Of Darkness
Age:
518
Visual Age:
18
Gender:
Male
Division:
Gotei 13
Rank:
lieutenant
Sexual Orientation:
Gay
Height:
5ft 9
Weight:
112Lbs
Body Frame:
Average
Blood Type:
-O
Sound of Voice:
Average
Appearance: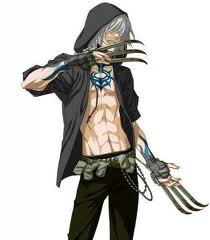 Introvert/Extrovert:
Introvert
Hobbies:
Training - Helping souls pass over, Basketball, Hanging with friends
Likes and Dislikes:
Likes
-
Training
Working
Getting His Own Way
Making Out
Boys
Getting His Own Way
Dislikes
-
Losing
People Prettier Than Him
Girls
Personality:
To begin with Sora is an extremely shy person, Uncertain on his abilites or anything -- apart from how god damn sexy he is, He will continue to doubt himself and his abilites allowing him to be manipulated easily. He feels as if hes useless in fighting tho has held his own many times
Once Sora becomes confident with a person he trusts his personality completly changes becoming a loud mouth flirt especially with his commander, He enjoys watching others train and hopes to one day become an accomplished fighter.
When sora is stuck with someone he fully trusts and someone he doesnt he becomes somewhat quite only mumbling softly to himself, This has made many believe sora has a small "split" personality,
Defining Characteristics:
sora has a flawless face, Not allowing any harm to come to that area of his body, Under his kneck he has a tattoo that shines bluw, This tattoo is a powerful thing allowing him to control his vast powers, It is known as a limiter every time he advances to a new level the tattoo fades, Being a "good guy" he tries hard to fight against the evil enemies, Tho due to him having power over darkness he can be easily swayed and corrupted, If an enemy were to hurt the area were the tattoo is he could possibly become INFECTED, Whoever's attacks the tattoo and successfully strikes it Sora will have no choice but to follow his command UNLESS his heart over powers the limiter, The limiter if scratched or damaged will caus Sora to lose control completely and go on a rampage, If this happens his power increases dramaticly and its anyones game to control him
Specialties:
Making out, flirting with people he has came to trust,
History/Background:
Sora was born into this world on augaust 16th, Born to a male called Riku and a female named Kairi, Both these people were known as soul reapers and possessed supernatural powers, Sora at the age of 8 discovered he held some power of his own, The power to command the thing he used to be feared off, The darkness, He discovered these powers when he had a nightmare that a monster emerged from the darkness, he awoke screaming his hands outstretched, The darkness seemed to fear his hands as it flew to each corner of his room beforevanishing yet there was no light in its place....just nothing as if the darkness had fled and the light had not returned,
His parents were worried about this, They were both protecters of good, Soul reapers, Helping keep the world safe from the evil monsters known as hollows and making sure lost souls crossed over to the other side easily, So during his 10th birthday when Sora's powers became alarmingly strong the two supernatural beings combined there power to create a marking on Sora to hold back his powers so that the young boy could control them, Tho the mark resembled a tattoo of a sun and moon it held a dark secret, This tattoo didnt only allow Sora to control his powers but it allowed others to control him, If someone evil or good were to place a decent amount of power into the marking they could simply control the boy making him there "puppet"
At the age of 13 on his way to school Sora managed to rescue his first soul from a hollow, The hollow itself for novice fighter's was very tough countering almost every attack Sora made, The soul would have been lost had sora not managed to create a large ball of black flame burning the large beast to smitherines, It was about this time were he began training with his weapon, These were claws which fittered around his arms and exteneded like claws over his knuckles, These blades were then capable of channelling Sora's dark attacks allowing for more devastating effects
This was Sora's old life,
Now 518, Sora has retained his 18 year old form tho his fighting abilities have increased incredibly his tattoo still binds his abilites, He has become a lieutenant of the 11th devision, Unsure how he got the rank Sora knows he has a lot to do and thanks to his un-removable curse he is a very big liability tho he believes tho he wields the power of darkness his heart is coursing with light and one day will be able to control his power
A few days ago Sora slipped up, His limiter weakeded for several minutes and the darkness that escaped caused chaos in the human world for months, Determined not to do it again he has made sure to focus on training his mind and spirit hoping that his commander would be there to guide him in every way he could
Role-play Sample: